Guideline Retirement Benefit Plans
Guideline Retirement Benefit Plans
Turnkey, seamless, 401(k) plans with affordable monthly pricing and no transaction fees
State-mandated retirement plans
According to a National Institute on Retirement Security report from 2021, nearly 57 million (just under half) of private sector working Americans lack access to a workplace retirement plan*. To help individuals save for retirement, states across the country have enacted retirement savings programs
Many states have passed legislation regarding retirement plans—and have upcoming registration deadlines. It's more important than ever to figure out what's required of your business, as well as to find the best retirement plan for you and your employees.
What SMBs should know
Employees are 15 times more likely to save for retirement* when their company offers a retirement plan. So while state-sponsored programs are encouraging more individuals to save for retirement, they can lack the flexibility and control businesses expect and SMBs need. Many of the programs rely on a Roth IRA, which has a much lower contribution limit compared to a 401(k), impacting the overall growth potential of your plan.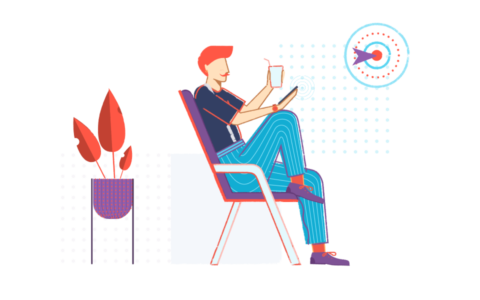 Why Guideline?
Guideline is on a mission to make it affordable for small businesses to offer a 401(k), by taking care of plan administration, record-keeping, employee onboarding, and more. Best of all? A full integration with Zenefits, means an easy set up!
Guideline's platform will automatically sync your Zenefits Payroll and Guideline 401(k) data so any updates or changes will be reflected in both places—saving you time and hassle.
Benefits
Guideline offers numerous benefits for both you and your employees.
Low-cost funds
The funds in managed portfolios are from low-cost providers like Vanguard.
A guiding hand
Investment portfolio recommendations, financial education, and live customer support.
Intelligent investing
All investment portfolios rebalance automatically to help you stay on track.
Simple management
Modern dashboard lets you view your savings and make updates at any time.
Offer a work benefit minus the mound of paperwork:
Get the 401(k) pricing plan that works for you
Frequently Asked Questions
What does a "no-touch" integration mean?
That means that businesses who use Zenefits' payroll software will be able to offer a Guideline retirement plan to their employees without any manual work that's involved in managing a company's retirement plan, such as updating contributions amounts, sending out compliance notifications, etc.
What's a Safe Harbor 401(k) plan?
One recommendation you can make for clients who wish to keep their 401(k) plan compliant — and simple — is to suggest a Safe Harbor plan. A Safe Harbor 401(k) plan exempts its sponsors from annual discrimination testing. To qualify as a Safe Harbor plan, a sponsor must make contributions to participants' accounts, and those contributions must vest immediately.
Learn more here: https://www.guideline.com/blog/safe-harbor-401k-plan/
How much does a 401(k) cost employers?
Employer pricing for Guideline plans starts at $49 per month base fee + $8 per employee per month.
If you're starting a plan for the first time, you may qualify for tax credits.
What tax credits are available to employers?
Businesses starting a 401(k) or other retirement plan may be eligible for tax credits including:
1) The Retirement Plans Startup Costs Tax Credit, which allows eligible employers to claim 50% of their ordinary and necessary startup costs up to $5,000 per year for up to three years. Employers may choose to start claiming the credit in the tax year before the tax year in which the plan becomes effective. Expenses incurred by employers to educate employees about the plan are also eligible.
2) There is a tax credit for new and existing 401(k) plans when they add an auto-enroll feature. The value of that tax credit is $500 per year for three years (a total of $1,500).
Why should I offer an employer match? Do I have to?
Outside of the tax deductions given to employers for making contributions to their employees' retirement accounts, the employer match is a powerful recruiting tool to attract top talent.
While you don't have to offer employer matching, it can be a powerful incentive for both hiring and retaining talented employees and there are major tax incentives for employers that offer a match.
Do I have to offer a retirement plan?
No states currently require employers to offer a specific kind of retirement plan, but several states have passed legislation that establishes a state-sponsored retirement plan (like CalSavers in California and OregonSaves in Oregon) and/or mandates that businesses provide a retirement plan. These state-sponsored plans are a helpful step for putting employees in better shape to retire, but a well-run 401(k) plan can mean lower fees for businesses and employees, so it's worth shopping around.
Which states have passed legislation?
Since 2012, 46 states have either implemented a state-based retirement savings program, studied program options, or considered legislation. Today, there are 14 states and two cities that have enacted new programs for private sector workers. Of that number, five states have an active program.
If you work or have full time employees in California, Illinois, New Jersey, New York, or Oregon, there is active legislation and states with upcoming deadlines.
Learn more here https://www.guideline.com/blog/the-current-state-of-state-sponsored-retirement-programs/
How do I set up the Guideline integration?
You can set up your Guideline integration by selecting the Add an App option on the main dashboard and then by selecting Guideline from the list. You'll need to have administrator permissions on the Guideline account that you want to link in order to set up the integration.
You'll also need to grant permissions to Guideline for the following items in Zenefits:
Company information
Employee information
Employment information
Bank information
Payroll information
Once you've granted these permissions, you'll be taken to the Guideline site to complete the setup. Once the setup is completed, Guideline will need to install the app on the Zenefits dashboard.